Events
Remembering the Battle of Belgium
Children in Need
Ms Gandy made arrangement for all children take part in fund raising for Children in Need. Thanks to the generosity of children, parents and staff, Fairfield Primary School raised a fabulous £557.65!
Our Dad's Army
November 15th 2016 marked the first day that we invited Dads into School to share time with their children. The aim was to have as many male carers from EYFS and KS1 as possible to come in and spend an hour in School to help with their child's learning. The response was phenomenal! Around eighty dads came into School and heard their child read, or learning played games. Everyone had a great time together!
We are looking forward to our next event with Mums.
Thank you very much to Mrs Milner for organising the activities.
Armistice Day November 11th 2016
Armistice Day was respected by all our children in remembrance of all the many brave people who died in conflicts in the past, not forgetting the sacrifices made by their families and loved ones. All children and staff gathered on the playground and held hands to stand for a minute's silence - which was carried out with thoughtful dignity.
Our prefects also visited the Cenotaph in Victoria Park where a ceremony took place to remember the brave sacrifices of the brave service men and women of Widnes. Here, the children laid crosses and posed for photographs with Rev Lyn McIver and two ex-service men.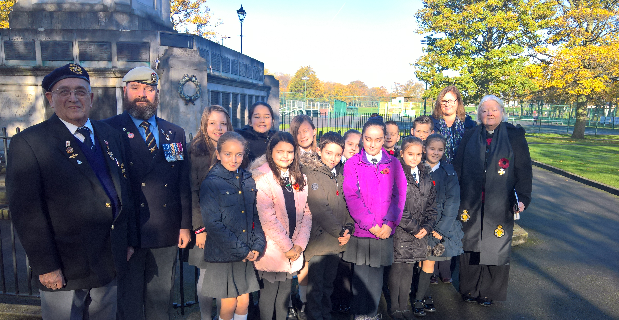 In School our KS2 children held hands with Key Stage 1 children as they quietly paid respect to all those brave people of Widnes who gave their lives in wars.
.
One of the workers who saw our children paying their respects was very impressed and posted a lovely comment about our children.
BEAT THE REPORTER!
On Friday 3rd July, some of our children challenged Tony Snell on BBC Radio Merseyside asking questions about British Architecture. Fairfield won the challenge and you can listen to our live broadcast here.
http://www.bbc.co.uk/programmes/p02trf8s
Take a look at our Dragon's Den afternoon! The children created their own fundraising activity and tried them out on the rest of the school.